Save $300 on any certified shingles job over $3,000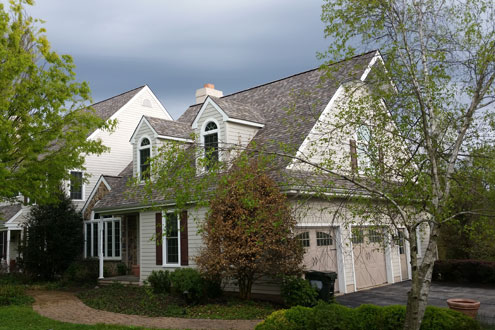 How do we know we're the right roofer for you? As a second-generation roofer, Mark J Fisher insists on using only the best products when installing or repairing your roof. In fact, we are certified installers of all the major shingle manufacturers, including:
CertainTeed
GAF
Owens Corning
Reliable Roofing in One Place Plus 24/7 Emergency Service
When it comes to your roof replacement or repair, there's only one company that can do it all, how you want and at a cost that won't break the bank. Mark J Fisher Roofing is your solution.
Fisher Roofing also removes ice and snow from roofs and emergency service is available.
Ice Damming & What You Need to Know
Looks like old man winter is sticking around for another 6 weeks and the weather we have been experiencing this winter are ideal conditions for ice damming!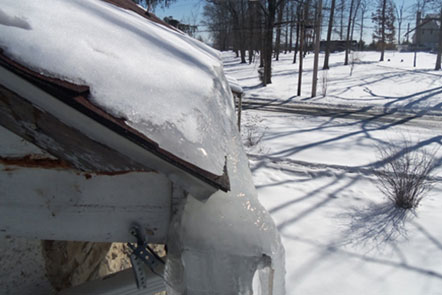 We at Mark J Fisher Roofing and Siding wanted to provide you some helpful information about ice damming and how to better protect your home!
Ice damming can be a nightmare for homeowners causing extensive water damage! Ice dams usually occur after a heavy snowfall and several days of freezing temperatures. Warm air inside your home leaks into the attic and will warm the underside of the roof causing snow and ice on the roof to melt. The melted water will drain along the roof, under the snow, until it reaches the overhang. The overhang tends to be at the same temperature as the outdoors and the melted water will re-freeze and form an ice dam and icicles. The ice dam can cause damage to the roof, which will result in water leaks to the inside. Frequently the result will be a water spot on the ceiling under the roof damage.It may not be possible to prevent all forms of ice damming. However, the following steps can help:
Add additional insulation in your attic and make sure your attic insulation is not blocking your roof ventilation
Clean leaves and other debris from gutters before the snow, this will help prevent ice build-up in the gutters
Provide adequate attic ventilation so that the underside of the roof and outside is the same temperature
Seal air leaks (including duct air leaks) in your attic to stop warm air from leaking into the attic
When ice damming does occur, its effect can be devastating to the interior of the home and to the home's occupants. At that point, the homeowner's primary focus is getting the water to stop entering the home or at a minimum slow down the flow of water. Generally the best solution at that point is to remove snow from the roof and melt away ice from the drains. Getting on your roof in these conditions is very dangerous. Chipping away ice can also be dangerous and can damage your roof's surface! We suggest you contact our office and schedule one of our professionals to clear the snow and ice for you! If you have any questions regarding ice damming, need any emergency snow removal or ice clearing or would just like a free inspection to determine your homes risk of ice damming, contact our office today! Roof and gutter repairs, attic insulation, emergency snow removal…We got you covered!