Save $300 on Any Roof Replacement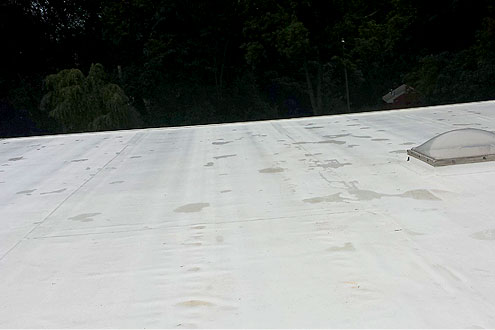 When you call Mark J Fisher Roofing, you can expect to speak with a qualified roofing expert. We work with you to find the right low slope roofing system for your home or business. In addition, we explain your warranty and workmanship guarantee options.
24/7 Emergency Service. There's No Angle Here!
At Mark J Fisher Roofing, you get the straight truth about your roofing options. We'll never try to sell you a roof with features you don't need. We're about getting you the right roof for the right price, including all of our low slope roofing options.
Asphalt roofing systems are perfect for any roof that requires it be walked on often, such as commercial and multiple-unit apartment buildings. Durable in any weather, asphalt comes with a variety of applications and would even be great for smaller, residential buildings.
BUR, or built-up roofing systems, are applied layer by layer of hot asphalt and share the durable and versatile qualities of asphalt roofing.
EPDM (Ethylene Propylene Diene Monomer) is a long-lasting, rubber roofing material, common due to its ability to roll across long areas.
SBS Modified Bitumen roofing systems offer an impact-resistant and expandable surface, perfect for seasonal temperature and weather fluctuations.
TPO (Thermoplastic Polyolefin Single-ply Membrane) offers resistance to high temparatures, UV, ozone, and chemical exposure. TPO are most common for commercial projects but may also be used for residential.